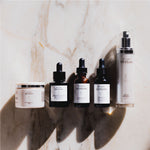 Expanding Your Skincare Regimen in 2022
This is my go-to exfoliant for visibly brighter skin. This luxurious, non-abrasive exfoliant works to even the skin tone, reduce fine lines, and leave the skin radiant and smooth.
My
SPF 44 BB Cream
gives you the sun protection you need while functioning as a luxurious moisturizing tinted BB cream. It is truly all you need in the morning.
Retinol + Bakuchiol Serum
This is my #1 anti-aging essential for preventing and correcting. This powerful serum contains the ideal blend of actives and botanicals to achieve a clear and radiant complexion.
Vitamin C + B + E Ferulic Serum
My desert island skin brightener and pigment corrector. A remarkable, antioxidant rich serum featuring high concentrations of Vitamin C, E and Ferulic Acid to provide optimal protection against the harmful effects of free radicals, reduce fine lines and wrinkles, improve hyperpigmentation, and increase collagen production.
My
Hyaluronic Serum
hydrates the face while increasing skin's natural collagen production. I like to use my hyaluronic serum to give the skin extra moisture, plump, and a clean base for any makeup I want to put on for the day.