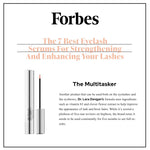 We all want full volume, long lashes: the type of lash that doesn't need mascara to enhance the thickness, and that can naturally curl up without a curler. We've been advised about different routes to take for the best short term results, but tints, extensions, mascara, and false lashes do not compare to the natural lasting results provided by lash serums. 
Lash serums are a great tool for helping our lashes achieve a healthy appearance. But unlike other lash serums, Dr. Devgan Platinum Long Lash doesn't stop there.  The serum duels as a product for both your lashes as well as your brows!
Dr. Lara Devgan Scientific Beauty Platinum Long Lash has been dubbed by Forbes as "The Multitasker," a product worthy of the name bestowed upon it. This multitasking product can be used on both the eyelashes and eyebrows, and contains ingredients such as vitamin b5 and clover flower extract which promotes hair and brow appearance.  With its cult following, this lightweight liquid formula is an all star in enhancing hair density and length. We encourage our users to apply the serum onto their lashes and brows twice a day consistently for about 5 months to see full results.
Read more about the importance of routines and consistency in our "Goodbye to Grand Gestures" article, and check out our Platinum Long Lash for yourself!
By Caroline Campos