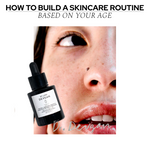 I strongly believe that it is never too early to start forming healthy skincare habits.  This includes drinking plenty of water, protecting yourself from the sun, and forming a skincare regime that correlates with your age. As your skin changes with age, so should your skincare routine. Let's break down what you should focus on at every stage of your life in order to maintain a healthy, youthful complexion.  
Skincare In Your Teens: Hydration 
Hormonal acne feels overwhelming and is usually the main source of teenage skin problems. A lot of teens use topical or oral treatment to combat acne which can prove to be effective yet can result in drying out the skin. The imbalance of oil causes severe breakouts. This can be resolved when you introduce a good hydration balance to your skincare routine.  
We suggest using our Advanced Recovery Cream and Hyaluronic Serum to give your skin the hydration it needs. Just remember, when you strip your skin of its natural oils, it will overproduce so make sure you're leveling out that moisture. 
Skincare In Your 20s: Early Prevention 
First of all, let's play catch up. If you haven't been using an SPF now is the time you MUST start. Okay, now that that's settled let's talk about anti-aging. While it is not necessary to invest in heavy anti-aging products, you should keep your eye on vitamin c. This antioxidant is a great product to start introducing into your skin regime to combat acne scarring and early signs of aging.   
We absolutely love our Vitamin C+B+E Ferulic Serum and recommend using it at night to help repair the skin while you are sleeping. 

Skincare In Your 30s: Your Retinol Reform 
It is time for your retinol reform. By now your skin's repair time is slowing down and it is time to invest in some ~anti-aging~ products. Retinol is your best bet in improving the appearance of fine lines, wrinkles, pore size and blemishes. Retinol is our #1 anti-aging essential for preventing and correcting, and decreases your need for botox or your botox dose! 
We recommend our Retinol + Bakuchiol Serum as well as our Microdermabrasion Scrub which also reduces pore size and fine lines. Be sure to check out our website for more information on which retinol concentration to use. 
Skincare In Your 40s: Anti-Aging 
In this decade, you might start seeing more noticeable signs of aging. Collagen production is slowing down and skin sagging might start developing. Do not fret -- Time to start focusing on the details and give some attention to the eye and neck area.
Our Peptide Eye Cream has a powerful peptide-vitamin complex that helps to firm, tighten, brighten, reduce wrinkles, strengthen capillaries around the eyes, and boost collagen.  
We also recommend our Niacin + Squalene Neck Firming Cream. It boots collagen and elastin production and helps tighten and firm the soft tissues of the skin for a more youthful looking neck.
Skincare In Your 50s: Repairing 
It is important to continue with consistency and remain meticulous with the skin care routine you have formed in your 40s and 30s. It might be a good time to reevaluate your skin routine to see that you aren't just packing on loads of anti-aging products but rather have a hydrating moisturizer that promotes collagen production, an SPF, and repairing night cream.
Our cult-favorite antioxidant moisturizer cream locks in dewy moisture making it the ultimate repair cream!  Formulated to deeply hydrate and repair the skin's barrier, this night cream helps improve skin texture and diminishes signs of aging.
Skincare In Your 60s and above: Reevaluate and Indulge 
Everyone's skin ages differently. Some people sag while others may experience dryness or deep wrinkle lines. When forming your own skincare routine for this age, reevaluate your skin's needs.  If you need more hydration use a hyaluronic serum and night cream. If you want to target dark spots and fine lines try a retinol with higher concentration. And if you've reached a point in your life where you want to try a little bit of everything, treat yourself! You deserve it! 
Try our anti-aging collection to rejuvenate your complexion!