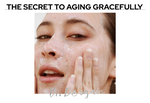 Aging gracefully is an art. Effortlessly progress through time, and keep your skin looking youthful with a few tips from Doctor Devgan.  
Prevention and action are the ultimate keys to anti aging. A well-crafted collection of products should be used daily to prevent as well as treat fine lines and wrinkles. To slow down the clock, I suggest adhering to the following checklist. 
Anti Aging Checklist 
I, personally, use all the products in this checklist, and they can be found in one perfect bundle, the Anti-Aging Collection. The goal of this skincare set is to resurface the skin, increase the rate of skin cell turnover and improve imperfections such as fine lines, blemishes, enlarged pores and hyperpigmentation. 
Order for Product Use: Serums, actives, creams, SPF, makeup.  
AM Routine 
PM Routine: 
Follow with Microdermabrasion Scrub 3 times a week and Advanced Recovery Cream as needed.