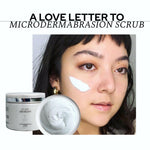 Dear Microdermabrasion Scrub,
You know the feeling you get after spending quality time with that special someone? For the rest of the day, a permanent smile is attached to your face and everyone around you can't help but mention your overnight glow. Well, that's all thanks to you, Microdermabrasion Scrub.
We only get to see each other 2-3 days a week, but that's honestly the perfect amount of time! I don't love feeling smothered in a relationship so I think this is a match made in skincare heaven. I went through a lot of exfoliants in my teens and early twenties but I've never been in a relationship this long. We met almost 5 months ago and I think it's safe to say we are in it for the long haul. The way you are able to exfoliate all of my dead skin cells away without dehydrating my skin is like nothing I've experienced before. You are the antidote for my hyperpigmentation and the reason for the numerous compliments I get about my seemingly poreless, radiant skin and that's why I keep coming back to you time and time again.  
I know serums have gotten an overwhelming amount of attention in the skincare community for the past few years and exfoliants, like you, have gone overlooked but let me tell you, your underdog qualities only add to your charm. Serums have been the "cool girl" of skincare for way too long and now it's your turn to shine in the spotlight. As of February 23th, you are going to be available online at Sephora. You will stand tall alongside the Hyaluronic Serum, Vitamin C+B+E Ferulic Serum, Peptide Eye Cream, Platinum Long Lash Serum, and Platinum Lip Plump, and I'll try not to feel jealous or possessive. I will try to be happy for your overdue rise to fame. Just don't forget me. 
Before you came into my life, I didn't have someone I could rely on. It was tedious going through every type of exfoliant, suffering through irritation and red patches in the process. I was so exhausted and disappointed that I almost settled and gave up trying to find the perfect scrub.  But then I found you and the rest is history.  
You are a vital part of my life and my routine.
Congratulations on your Sephora launch my dear Microdermabrasion Scrub! No one is more deserving than you! To celebrate you and express my devotion, here are the reasons you are so important to me and my skin:
1. You're Gentle Yet Effective  
Since I have sensitive skin I am always nervous about trying new exfoliants. Will they be too rough? Will they leave me feeling dry? Not you! You are the perfect amount of gentle and effective - your non-abrasive exfoliation of pumice granules improves my skin tone and texture, leaving me with a radiant finish! Big thanks for helping my skin cycle turnover!
2. Everyone Loves The Underdog 
There is such a media frenzy with serums. They make for aesthetically pleasing videos, they are "glossy" and let's face it...they are the cool girl of skincare but you get the job done and your underdog, overlooked qualities just make me love you more!
3. You Make Me A Better Version Of Myself 
When I say I have never looked this poreless and felt this soft, I mean it. You have literally made me feel like a freaking newborn baby and I'm just basking in my rebirth. Here I come 2021!
 4. My Love Language is Quality Time
My day starts and ends with my skin routine. It's a consistent routine that, at times, can feel mundane due to the predictability of the whole process and familiar products. I appreciate each one of my daily serums and moisturizers, but I have to admit, there is something extremely thrilling about knowing it is a scrub day! Scrub days for me only happen 2-3 times a week but that time I share with you, even if it's less frequent, it's quality time I wouldn't trade for anything else. 
5. You're Timeless 
The secret is out! Microdermabrasion Scrub is changing the skincare game and bringing attention to the power of exfoliants! It's about time we recognize the importance of exfoliation in our skincare routine. Just like how a little black dress is a staple in every wardrobe in every decade, the same can be said about having a scrub in your skincare regimen. 
You're timeless, will never go out of style, and I'll never regret having you. 
Just keep being you, and never change, and know that cheerleaders like me will keep cheering you on! Stay golden, Micro Scrub. 
Always devoted, always yours,
Caroline
P.S
Wanna write your own little love letter to Microdermabrasion Scrub and give it the attention it deserves? Then be sure to go and review it at the Sephora website!  And if you are new to Dr. Devgan Scientific Beauty and are debating which product should be your first purchase, then head over to Dr. Devgan's website to receive 10% off your first purchase!  Your skin won't regret it!

By Caroline Campos