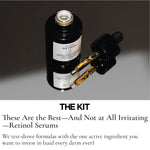 My Retinol+Bakuchiol Serum was recently featured in The Kit as one of the best and not at al irritating retinol serums on the market.
Retinol is one of the most important ingredients for fresh, smooth, and plump skin.
The Review:
"This serum is extremely luxe, even more than you would expect from the skincare line of the highly regarded Manhattan plastic surgeon Dr. Lara Devgan, whose extremely subtle work gets you thinking about the merits of tear trough augmentation or a liquid nose job. In its heavy glass bottle, this golden serum has the very faintest hint of a tropical cocktail scent (though it's fragrance-free) and feels a bit like an expensive face oil when you apply it. But it's not greasy at all and sinks in beautifully. Not a hint of irritation. My skin looked great the next day, even better the next - redness was minimized, a certain freshness continues to compound, and it also helped a couple breakouts heal fast.
"