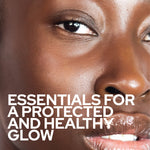 "May is one of my favorite months of the year! With more time spent outdoors, it is important to keep our skin protected from harmful UV rays and environmental damage. This is my spring skincare regimen for healthy skin this spring. Xx Dr. Lara."
My new Vitamin C Serum is my most powerful antioxidant protectant. It contains 20% vitamin C, Ergothioneine, Apigenin, Green Tea Polyphenols, and plant-based antioxidants to give the skin extra free-radical protection. This is key for preventing sun damage and hyperpigmentation.
Next, I apply my Hyaluronic Serum for an extra hydration boost. Not only does this promote collagen production, but it increases the skin's barrier protection. A strong dermal barrier will help with free-radical protection.
Last but not least, I apply my SPF 44 BB Cream.This stellar, all-in-one product that moisturizes, protects against UVA and UVB radiation and uses a proprietary pigment to provide sheer coverage that blends naturally to match every skin tone.