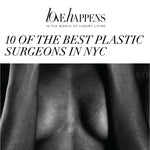 "The truth is everyone is beautiful just the way they are. But if you feel uncomfortable with some part of your body or face, you can perfectly improve that aspect to increase your self-esteem. Cosmetic surgery can be a beautiful way to enhance our natural beauty. Of course, in any cosmetic surgery, safety is the most important thing. Thus, when we are in the hands of the best professionals in this area, we only have to trust their work. So if you live in the New York area, here are 10 of the Best Plastic Surgeons in NYC."
"Dr. Lara Devgan is a board-certified New York City Plastic Surgeon, CEO of the luxury medical-grade skincare line, Dr. Devgan Scientific Beauty, and the former Medical Director of RealSelf. Her clinic is dedicated to luxury cosmetic care. While in addition, she serves as an attending plastic surgeon in hospitals as she shares her knowledge by teaching younger people."
"Her specialty, that is, what interest her most, is cosmetic surgery of the face and body and reconstructive surgery for breast cancer, skin cancer, and facial injuries."