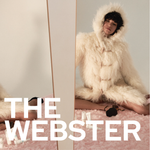 I was recently included in The Webster Winter Beauty Essentials "Winning Winter Skin" newsletter!

Here are The Webster's product recommendations for winning winter skin.

1. Keep the skin youthful and hydrated with my Hyaluronic Serum.

2. Repair and moisturize the skin with Advanced Recovery Cream.

Thank you for the honorable mention!