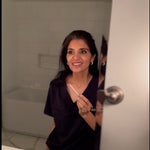 Wake Up With Dr. Lara Devgan

"I wake up early, get my kids ready for school, and get organized for the day. Next, I apply my skincare products, and I head to the office for a day of surgical and non-surgical procedures. Xx Dr. Lara"

Dr. Lara Devgan's Morning Skincare Routine

I wash my face with this gentle resurfacing cleanser by removing debris and cellular impurities while protecting the skin's barrier function.

Next, I apply my Hyaluronic Serum to hydrate and boost collagen. It is fortified with niacinamide to improve skin quality and texture.

I apply my Peptide Eye Cream to rejuvenate the delicate tissue around the eyes.

I apply my SPF 44 BB Cream, SPF Concealer, and SPF Dusting Powder for a protected and seamless finish.

For an extra beautiful effect around the eyes, I apply my Platinum Long Lash and Extreme Lengthening Mascara.

Before I head out the door, I apply my Platinum Lip Plump for an extra boost.