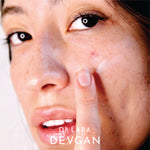 "One of the biggest misconceptions and fallacies in skincare is the idea of perfect skin, there really is no such thing as perfect skin. You can have a blemish, a pimple, or enlarged pores and still have nice healthy skin. You can have good skin days and bad skin days, but that doesn't mean you don't have healthy skin. What it means is that your skin is normal. There are days of fluctuation in everything which is important to recognize especially in an age of Instagram filters and photo manipulation.
What's really important is making sure you're taking care of the basics. You want to think of giving yourself the active ingredients you need for healthy skin with medical grade skincare and active protection against the elements.
These are some of my recommended basics to achieve healthy skin.
These are basic ingredient categories that will help most people, regardless of their specific concerns, achieve a healthy ingredient profile for great, healthy, and high-quality skin.