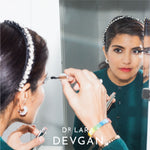 Introducing the anticipated Dr. Lara Devgan Holiday Gift Guide! My holiday gift guide includes hand picked selections from my line of products to make your gift shopping easier this Holiday Season.
The
JET SETTER
Collection is perfect for your friend who is always packing their suitcase for their next trip. Whether you're going to Malibu or Iceland, this edited collection includes all the essentials for hydration, protection, and glowing skin. Also, everything fits perfectly into your suitcase.
The
STOCKING STUFFERS
collection is a handpicked selection of small but mighty products that are all about subtle enhancements and optimizations. These make the perfect gifts for friends, family, coworkers, and especially yourself!
The
NEW YEAR, NEW SKIN
collection is for those who are ready invest in a more comprehensive skincare regimen for 2022 and leave last year's skin behind. This collection includes my Serum Superheroes Collection, Peptide Eye Cream, Retinoid Micro-peel Collection, Resveratrol Night Cream, and Microdermabrasion Scrub.
The
DAWN TO DUSK
collection is perfect for those who are always on the move and on their way to the next venue. This collection includes a handpicked selection of products that are perfect to bring on the go and keep you looking effortlessly flawless during those late nights out.
The
MAXIMALIST
collection is my edited set for those who want the best possible most effective skin care program. It contains my best selling Serum Superheroes, Anti-Aging Essentials, and Luxury Skincare Collection.