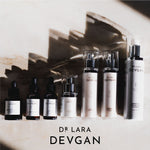 Dr. Devgan's 7 Step Regimen to Maintain a Youthful Glow

"My ANTI-AGING COLLECTION is a comprehensive selection made of my 7 core Dr Lara Devgan Skincare Collection products that help prevent aging as well as maintain a youthful appearance of the skin."

My HYALURONIC SERUM boosts collagen, smooths the appearance of fine lines, hydrates the skin, improves dermal barrier function, and reactivates collagen and elastin production.

My antioxidant-rich VITAMIN C+B+E FERULIC SERUM is a skin booster for healthy, glowing, even skin and increases collagen production while protecting the skin from harmful free radicals.

My RETINOL + BAKUCHIOL SERUM is formulated with powerful antioxidants and anti-aging ingredients to fight fine lines and promote cell turnover to achieve a clear and radiant complexion.

My PEPTIDE EYE CREAM effectively diminishes the appearance of fine lines, wrinkles, and puffiness while moisturizing the delicate tissue of the eye area.

My ADVANCED REVITALIZING CLEANSER is a gentle everyday cleanser that effectively cleanses, moisturizes, and preps the skin to be a clean base for the next steps of your skincare regimen.

My ADVANCED RECOVERY CREAM is formulated with Vitamin E and Provitamin B5 to decrease inflammation, soothe the skin, and reduce water loss. It also increases the skin's overall hydration, and offers protection from further dryness and chapping.

My SPF 44 BB CREAM uses zinc, titanium, and a proprietary pigment that gives you the sun protection you need, but also functions as a luxuriously moisturizing tinted BB cream that will even your complexion and provide glowing skin.