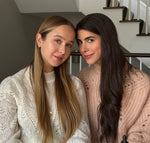 Our latest Skinspiration is Flirty for Food's Myriam Harrouche and Lulu Fanjul. The pair met while studying together at The University of Pennsylvania in Philadelphia. Their love of food and desire to empower the community during the pandemic birthed Flirty for Food, a community and website with restaurant recommendations and exclusive culinary collaborations and experiences. Continue reading to get the scoop on Myriam and Lulu's beauty secrets!
Tell us what you do in overly simplistic terms, then tell us what you really do
FLIRTY is your trusted resource for restaurant recommendations that also brings people together through excellent hospitality.
During the pandemic, we were so inspired by chefs who were forgoing their own salaries and doing everything they could to keep their employees supported and businesses open- so we started @flirtyforfood as an Instagram page to highlight their stories and encourage our community to support our favorite local restaurants. Fast forward, we have gained valuable relationships in the hospitality industry and garnered a reputation as a trusted resource for where to eat in NYC and beyond. Our website (www.flirtyforfood.com) consists of curated guides for NYC restaurants - from "What's trending in Tribeca" to "Where to take someone who gives you the butterfly feels" - as well as our go-to spots in Paris, Madrid, Miami, Tel Aviv etc.
Our Secret Supper Clubs bring our community together and offer an exclusive FLIRTY experience at our favorite restaurants that we partner with throughout the city. Ranging from a 30-person sit-down Michelin star restaurant to a 300-person party in an unexpected deli, our dinner parties curate a crowd of outgoing New Yorkers from various social scenes that can meet and mingle over delicious food. Wondering how to score an invite? Look out for a text from our FLIRTY hotline inviting you on a date night to one of our favorite spots, and you can bring a Plus One! DM us your number if interested.
How long have you been living in NYC?
We have been living in NYC for a little over a year now- we're roommates, best friends, co-founders and each other's daily dinner dates. We met and became best friends over pancakes while studying at the University of Pennsylvania. At that moment we realized food is great but it is ultimately all about who you share it with. Looking back, it's fascinating to think that the ethos of FLIRTY's brand originated when we first became friends.
What is something you used to hate about your appearance but you now love?
We both aren't tall, which we used to not love, but now embrace it! Catch us in very FLIRTY heels on a night out in NYC.
What is one non-negotiable in your morning routine
A matcha a day...
If you had to eat the same dish from one restaurant in NYC every meal, forever, what would it be?
Such a difficult question because we love so many restaurants and have favorites based on location, occasion and cuisine. Perhaps the fennel salad at One White Street, serving excellent farm-to-table fare in a charming Tribeca townhouse.
If you could have a lifetime supply of any Dr. Devgan skincare product, which one would it be?
The Platinum Lip Plump! Best product for a very FLIRTY evening. The word FLIRTY itself actually comes from when we would dine outside in the freezing outdoor seating during the pandemic - despite the cold, we found ourselves applying lip gloss mid-meal and asking the waiter what his biggest dreams were. Dining out brings out a fun and playful side of us that brings a new definition to the world FLIRTY itself.
Shop Dr. Lara Devgan Scientific Beauty Platinum Lip Plump at Sephora or drlaradevgan.com
Check out
Flirty for Food
!