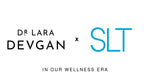 On Tuesday, October 24th, Dr. Lara Devgan Scientific Beauty and SLT NYC collaborated to promote holistic well-being. SLT, a premier pilates workout, combines cardio, strength training, and reformer pilates, founded by Amanda Freeman in 2011. We believe beauty and wellness are interconnected, starting with regular exercise and nourishment. To celebrate, we gifted collaboration class members our best-selling gummy nutraceuticals, the Super Green Complex and Multi Bears, and entered them into a larger raffle contest. A day of skincare and fitness fusion!
Our Super Green Gummies contain 32 green vegetables, antioxidants, pre/probiotics, vitamins, and minerals. Highlights include Spinach, Spirulina, Turmeric, and more. Multi Bears provide daily vitamins (A, C, B6, Folic Acid) in delightful orange, pineapple, and strawberry flavors. Featuring Folic Acid, Vitamin B6, and more. For optimal results, combine with Beauty Bears, Collagen Hearts, and Melatonin B6 Mood Boosters. All products are made in the USA with global vegetarian ingredients.
Explore our Total Wellness Set, featuring all five gummy nutraceuticals. Read more about SLT here. Shop Dr. Lara Devgan Scientific Beauty Gummy Nutraceuticals at Dr. Lara Devgan Online.