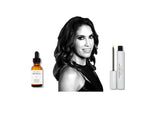 Our latest Skinspiration is Wende Zomnir. Originally from Texas and now residing in Newport Beach, California, Wende is a rule breaker who most recently founded Caliray - a clean and indie beauty brand with a big focus on sustainability. Wende spent the bulk of her career at Urban Decay and had a fruitful 25 year career at the company during which she served as Co-founder and Chief Creative Officer. In her spare time, Wende can be found surfing, diving, snowboarding and cross-country skiing. Continue reading to get the scoop on Wende's beauty secrets!
Tell us what you do in overly simplistic terms, then tell us what you really do.
What I do is run a makeup company. I am the founder and CEO of Caliray. It is a clean and sustainable makeup brand. But what I really do is everything. So I am a product formulator, product tester, and copywriter, I work on brand imaging, and brand messaging, I'm even an artist and draw some of the imagery for the packaging. One thing I don't do is all the Excel spreadsheets. I really am so grateful for my ops and finance people that do those things for me. But just really running the business from an overall imagery standpoint, brand vibe and taking every little thing into account to build the brand.
What is something you used to hate about your appearance but you now love?
So I used to feel like I didn't have a cute bum, but I have been working on getting my rear chain really strong and I figured out how to use it to make me a better performer at all my sports. So now I'm really in love with my backside.
What is one non-negotiable in your morning routine?
I have so many non-negotiables in the morning. I have to use vitamin C on my face. I always wear sunscreen and I always apply a little So Blown primer to make my skin look perfected and blown out.
If you had to eat the same dish from one restaurant every meal, forever, what would it be?
If I had to eat the same dish from one restaurant forever and ever it would be the guacamole from Gracias Madre.
Which historical figure do you most identify with and why?
So I most identify with Gloria Steinem. She's not really a historical figure because she is fortunately still with us. But she paved the way for all women to be treated and paid equally. And, I was honored to serve with her on the board of Ms Magazine and learn so much from her and when she called herself your fairy godmother in New York - it was a really treasured moment.
If you could have a lifetime supply of any Dr. Devgan skincare product, which one would it be?
If I could have a lifetime supply of Dr. Devgan's products I would pick the C+B+E Ferulic Serum and the Long Lash Serum.
Shop Dr. Lara Devgan Scientific Beauty Vitamin C+B+E Ferulic Serum and Platinum Long Lash Serum at Sephora or drlaradevgan.com