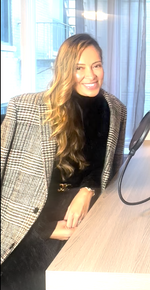 Our latest Skinspiration is Claire's Executive Vice President + Chief Merchandising Officer Claudia Lima-Guinehut. Claudia has her Bachelor of Science in Marketing from New York University and her Master of Business Administration from Columbia University. Claudia has also held senior roles in the past at The Children's Place, Destination Maternity, Zara, Camuto Group, Ralph Lauren, and Fifth & Pacific Companies. Continue reading to get the scoop on Claudia's beauty secrets!
What is something you used to hate about your appearance but you now love?
My lips!
What is one non-negotiable in your morning routine
Sunscreen.
If you had to eat the same dish from one restaurant in NYC every meal, forever, what would it be?
Pasta from Carbone.
Which historical figure do you most identify with and why?
 Margret Thatcher, because she was a boss.
If you could have a lifetime supply of any Dr. Devgan skincare product, which one would it be?
I think it would definitely be her hyaluronic acid serum.
Listen to the full episode of Beauty Bosses with Claudia on Apple Podcasts!

Shop Dr. Lara Devgan Scientific Skincare on Sephora or drlaradevgan.com
Check out Claires!