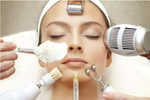 In the ever-evolving world of skincare and plastic surgery, staying ahead of the curve is crucial. With innovative techniques, groundbreaking research, and a passion for enhancing natural beauty, plastic surgeons play a vital role in shaping the industry. Recently, The Daily Front Row recognized five outstanding medical professionals and among them was the esteemed Dr. Lara Devgan. Let's delve into the remarkable journey of this trailblazer, celebrated for her expertise, dedication, and transformative work in the field of plastic surgery.
Dr. Lara Devgan, a board-certified plastic and reconstructive surgeon, is renowned for her unparalleled skills and commitment to providing personalized and natural-looking results. With a stellar educational background and extensive training, Dr. Devgan has emerged as a leading figure in the plastic surgeon community. Her genuine passion for her craft, coupled with a deep understanding of her patients' needs, sets her apart as a truly exceptional plastic surgeon.
What distinguishes Dr. Devgan from her peers is her innovative approach to skincare. Embracing the latest advancements in plastic surgery and aesthetics, she combines artistry with scientific expertise to deliver results that exceed expectations. Dr. Devgan is recognized for her expertise in non-invasive procedures, such as dermal fillers, Botox, and laser treatments, which help her clients achieve youthful and radiant skin without undergoing surgery. Dr. Devgan also specializes in many surgical procedures that help patients look and feel their best.
Dr. Devgan is not just a skilled practitioner; she is also a passionate educator dedicated to empowering her patients. She believes in the importance of informed decision-making and takes the time to educate her clients about their options, potential outcomes, and realistic expectations. By fostering a transparent and trusting relationship with her patients, Dr. Devgan ensures that each individual feels confident and comfortable throughout their skincare journey.
Beyond her clinical practice, Dr. Lara Devgan is a true visionary in the plastic surgery industry. She constantly pushes boundaries, exploring new techniques and technologies to enhance the field. Her research contributions and advocacy for patient safety have earned her respect and admiration among her peers. By sharing her knowledge through publications, lectures, and social media, Dr. Devgan continues to inspire aspiring medical professionals and instill confidence in her patients.
Dr. Lara Devgan's recognition in The Daily Front Row article is a testament to her unwavering dedication to excellence in plastic surgery. Her innovative approaches, commitment to education, and transformative results have not only earned her a prominent place among her colleagues but also the trust and gratitude of her patients. As a trailblazer in the field, Dr. Devgan continues to shape the future of skincare, leaving an indelible mark on the industry and the lives of those she serves.
Make an appointment for a surgical or nonsurgical consultation with Dr. Lara Devgan here. 
Dr. Lara Devgan, MD, MPH, FACS, is a top board-certified New York City plastic surgeon and the founder and CEO of luxury medical-grade skincare line Dr. Devgan Scientific Beauty. She is an international lecturer, a renowned industry consultant, a classically trained artist, and an expert in plastic surgery and injectables for the face, breasts, and body. She is the former Chief Medical Officer of RealSelf. She lives with her husband and 6 young children on the Upper East Side of Manhattan.
Read the full article on The Daily Front Row here.