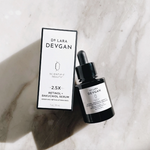 Retinol, The Skin Industry's Secret Weapon

"Our RETINOL + BAKUCHIOL SERUM is a powerful serum that delivers amazing results, making it one of my favorite products. Retinol is a hero ingredient that is amazing for reversing and preventing signs of aging on the skin. Combined with all of the great properties of Bakuchiol, it makes it unlike any other Retinol on the market." Xx Dr. Lara



Our RETINOL + BAKUCHIOL SERUM is a powerful resurfacing serum that fights signs of aging, and improves skin quality. Retinol is a hero anti-aging ingredient that improves smoothness of the skin, making it the skincare industry's secret weapon. Bakuchiol is a plant-based anti-oxidant and anti-inflammatory ingredient that is structurally similar to Resveratrol, the active found in red wine. When combined, the harsh side effects that are typically associated with Retinol, such as skin sensitivity are minimized. This makes it more tolerable for new Retinol users. This concentrated combination effectively helps to improve the appearance of fine lines, wrinkles, pore size and blemishes.



REAL CLIENT STORY

"I was diagnosed with rosacea 18 months ago, and I started taking doxycycline. It helped to clear flare ups, but as soon as I stopped taking it even for a couple of days, it would come back. Two weeks ago I stopped taking the antibiotics, and I started using your RETINOL + BAKUCHIOL SERUM. I've had no inflammation or flare ups. I am so happy with the results!!"


Consider my SERUM SUPERHEROES COLLECTION

When combining my RETINOL + BAKUCHIOL SERUM with my HYALURONIC SERUM AND VITAMIN C+B+E FERULIC SERUM, the efficacy of each individual serum is increased significantly, giving you amazing results and improvements like tighter pores, reduced fine lines, a clear and even complexion, and bright, hydrated skin.