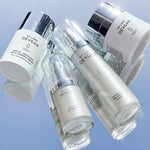 Maintaining Moisture to Prevent Aging

During the winter, the humidity levels in the air are much lower, making our skin more prone to cracking and flaking. Highly moisturizing products are crucial to not only maintain our skin's hydration and elasticity but to prevent early signs of aging like wrinkles and fine lines. My HYALURONIC SERUM, NIACIN + SQUALENE NECK FIRMING CREAM, and RESVERATROL NIGHT CREAM will lock in moisture throughout the dry season to keep your skin glowing. Xx Dr. Lara

Hyaluronic Acid is naturally found within our skin, and its main function is to help retain the tissue's moisture. My HYALURONIC SERUM is formulated with advanced mixed molecular hyaluronic acid to not only moisturize the surface of our skin, but promote the absorption into the lower tissue layers as well and increase the prosecution of collagen. I recommend applying my HYALURONIC SERUM in the morning to provide a beautiful glowing appearance and continuous hydration throughout the day.

So often, we neglect our neck area by forgetting to give it proper care in our skincare routines. My NIACIN + SQUALENE NECK FIRMING CREAM is formulated with powerful antioxidants and Vitamin B. This neck firming cream encourages collagen and elastin production, which help to tighten and firm the neck and decollete area.

Utilizing a mixture of ceramides, peptides, emollients, and Resveratrol, a green tea polyphenol, my RESVERATROL NIGHT CREAM deeply moisturizes the skin's many barriers, calms any irritation, and infuses antioxidants to fight damage from free radicals and dry winter air.