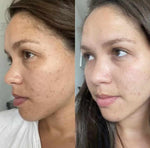 Most of us visit the dentist twice a year, but we brush our teeth everyday because daily maintenance (or the lack thereof) can make a significant difference in your health and beauty.

The same is true for your skin, where small additive daily habits can truly move the needle - either way. This beautiful client shared her these real skincare progress photos that were taken only 15 days apart! "My progress with your products. It has given me so much confidence! I can't thank you enough!"
She consistently used the RETINOID MICROPEEL COLLECTION which is an edited set of products to help with resurfacing, texture, and complexion. She used the HYALURONIC SERUM in the morning, VITAMIN C+B+E FERULIC SERUM and RETINOL+BAKUCHIOL SERUM in the evening, and the MICRODERMABRASION SCRUB a few times a week for this stunning result.

The skin is the body's largest organ, and a medicalized mindset with an ingredient based approach can yield powerful results. Click here to learn more about my award-winning products. We are continuing to offer complimentary customized product recommendations, so DM your questions and a makeup free photo to @drlaradevgan. Xx Dr. Lara.