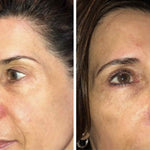 The eyes are important not just in facial beauty, but also in facial identity. The fine and meticulous details are part of the hidden joy of being a board certified plastic surgeon and CEO of a medical-grade skincare line. This real client used my PEPTIDE EYE CREAM to help with anti-aging, dark circles, and overall improvement in the peri-orbital area. 
"This product is FANTASTIC! As viewed in the picture, this is the result within one week of use! With each day that passes I keep seeing more and more results. Truly worth every penny!"
My PEPTIDE EYE CREAM is formulated with a blend of vitamins, phytopeptides, mixed molecular weight hyaluronic acid, and supple moisturizers to improve the appearance of crows feet and dark circles while increasing collagen production around the eyes.
Skincare and beauty are hugely misunderstood and often trivialized, but confidence and self-possession are incredibly poignant, meaningful, and powerful forces. Our personal identities are mental and emotional, but we are housed in our physical body. I believe that it is part of the human condition to want to present your best self to the world, whatever that means to you. Helping my clients achieve this, in a safe and medically responsible manner, is a true privilege for me. Click here to shop my PEPTIDE EYE CREAM.
Xx Dr. Lara.