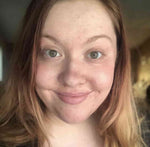 Life is too short not to be comfortable in your own skin, whatever that means to you. This beautiful client is a nurse who was preparing for her upcoming wedding. She used the Serum Superheroes accompanied by the Microdermabrasion Scrub, Peptide Eye Cream, and Advanced Revitalizing Cleanser. Her goal was to reduce redness, acne, and hyperpigmentation.
"The difference I have seen is REMARKABLE. I've struggled with moderate-to-severe acne since middle school, and I've never been able to able to get it under control until now. Along with severe hyperpigmentation and fine lines, I've dealt with frequent bouts of extremely painful cystic acne. I am a registered nurse in NY, and I used to feel the need to wear heavy make up to work. Lately, I've just been using the Platinum Lip Plump during my hectic shifts. I'm getting married this year, and the results mean so much to me. Thanks again!"
The power of medical-grade skincare, and the impact it has on quality of life are real. For this regimen, shop the Luxury Skin Care Collection. Xx Dr. Lara.