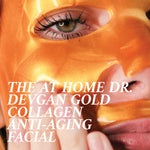 The At Home Dr. Devgan Gold Collagen Anti-Aging Facial

"Take some time for self-care and treat yourself to a facial. If you can't make it to my medical practice in person, you can recreate my signature Gold Collagen Anti-Aging Facial at home. Light a candle, grab a robe, and spoil yourself with some well-deserved pampering. Xx Dr. Lara"

On a freshly cleansed face, exfoliate the skin with my Microdermabrasion Scrub. Massage the scrub into the face to rid the face of impurities and leave it looking smoother and softer.

Next, massage my Hyaluronic Serum into the skin. This will improve the skin's barrier function, hydration, and collagen support.

Apply my Gold Infused Collagen Treatment Mask, and leave it on for twenty minutes. This will help visibly improve texture, softness, and firmness of the face and neck.

After the mask is removed, apply my Vitamin C + B + E Ferulic Serum to brighten the skin and improve the appearance of fine lines and skin turgor.

Finish off with my Niacin + Squalene Neck Cream and Peptide Eye Cream to lock in moisture.