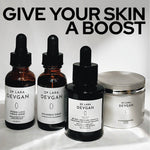 "Summer is quickly approaching, and if you're looking to enter this new season with a lustrous glow, look no further than my best-selling
Retinoid Micropeel Collection
. This edited set contains the four core products your skin needs to remove excess dead skin & uneven skin while improving fine lines & hyperpigmentation."
Several times a week, use my ultra-luxurious and non-abrasive
Microdermabrasion Scrub
physically evens out the skin's texture by ameliorating scars and removing the outer layer of dead skin cells that build up unevenly across the face.
My ultra hydrating serum formulated with an advanced mixed molecular weight hyaluronic acid to plump and rejuvenate the skin, reduce fine lines, increase skin firmness, and improve elastin production.
A remarkable, antioxidant rich serum featuring high concentrations of Vitamin C, E and Ferulic Acid to provide optimal protection against the harmful effects of free radicals, reduce fine lines and wrinkles, improve hyperpigmentation, and increase collagen production. A must-have product to achieve glowy, youthful skin.
An antioxidant rich serum formulated with RETINOL, a hero anti-aging ingredient, and Bakuchiol, a plant-based anti-inflammatory, that fights fine lines, discoloration, blemishes, and enlarged pores. This powerful serum contains the ideal blend of actives and botanicals to achieve a clear and radiant complexion.
"The nice thing about the products is that they use the best of in class ingredients to give people the kind of result they want from plastic surgery but in "at home" comfort." - Forbes