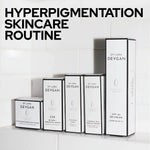 My Hyperpigmentation Collection provides meaningful improvement in dark spots, melasma, scattered sun spots, and hyperpigmentation. It provides an increase in evenness that improves overall skin quality. I often get asked what order to apply the products so I curated a specialized routine for hyperpigmentation. Xx Dr. Lara."
Apply the Hyaluronic Serum in the morning on a freshly cleansed face.
Apply the SPF 44 BB cream to soften the appearance of blemishes, and protect the skin from further sun damage. Apply make-up afterwards.
In the evening after cleansing your face, gently use the Microdermabrasion Scrub to slough off dead skin cells and prepare the dermis for optimal serum absorption. Do this 2-3 times a week.
Apply 2-3 drops of the Vitamin C+B+E Ferulic Serum after cleansing the face in the evening.
Follow up with the Retinol+Bakuchiol Serum, and any moisturizers to lock in hydration.