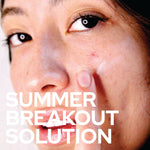 "Skip the breakouts this summer with these savvy skincare tips. Xx Dr. Lara."
Cleanse
Remove dead skin, and improve quality and texture with this luxurious and non-abrasive physical exfoliant.
Although it might seem counter-intuitive to use a hydrating product when we are sweating all day, it is important to continuously replenish the skin with the hydrating nutrients it needs.
Keep your skin protected and shine-free throughout the day with my best-selling mattifying powder.