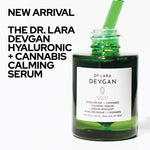 The Hyaluronic+Cannabis Calming Serum
"My Hyaluronic+Cannabis Calming Serum is the latest addition to my Serum Super Set. It is formulated with innovative and science-backed ingredients that are soothing, hydrating, and suitable for all skin-types. Try it for yourself while supplies last. You won't want to miss this! Xx Dr. Lara." 
Daily use will
s
oothe and calm irritation while strengthening the skin's dermal barrier. Repair damaged skin that may have been caused by overexposure to sun, harsh, dry, or cold weather, acne, psoriasis, or rosacea. Corrects uneven color tone and redness, provides long-lasting moisture. 
Ingredient Highlights
Hyaluronic Acid, thyme, cucumber, mulberry, elderberry, echinacea, chlorophyll, green tea polyphenol, melatonin, cannabis sativa (hemp) seed oil, vitamin C.
How to Use
Apply 2-3 drops of serum to clean skin before moisturizer. Can be applied to other areas of the body as needed. Can be used 1-2 times a day.