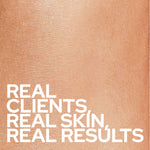 Real Clients, Real Skin, Real Results
"My Retinol+Bakuchiol Serum is one of my favorite products because it truly represents the power and efficacy of medical-grade skincare. This resurfacing Serum is formulated with a powerful combination of botanicals that fight the signs of aging and improve skin quality. It is everything you need to achieve your texture goals." Xx Dr. Lara.

Retinols can sometimes cause a "purge" of sebum a few days to a few weeks after use -- this is normal. The skin around the eyes and on the neck can be more sensitive to retinols. Avoid this area of irritation occurs. Retinol is not recommended for use in pregnancy or nursing. Retinol can increase sun sensitivity so I recommend following use with my SPF 44 BB Cream.