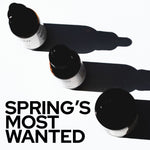 "Bright eyes, hydrated skin, and plump lips…keep reading to discover this spring's most wanted products. Xx Dr. Lara.
A hero eye cream formulated with a powerful peptide-vitamin complex that helps to firm, tighten, brighten, reduce wrinkles, and strengthen capillaries around the eyes.
An ultra hydrating serum formulated with an advanced mixed molecular weight hyaluronic acid to plump and rejuvenate the skin, reduce fine lines, increase skin firmness, and improve elastin production.
A medical-grade lip plumper rich in collagen producing ceramides and hydrating nutrients to promote lip hydration, visible volumization, improvement in pink color and antioxidant protection immediately upon application- in the form of a clear gloss.