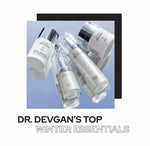 "Cold air and low humidity are known to draw moisture from the skin leaving it dry, cracked, and flaky. This is why moisturizers are crucial in not only locking in your skin's natural moisture, but preventing the appearance of fine lines caused by dryness and tightness of the outer layer of the skin. These are some of my top picks for eliminating dry winter skin." xx Dr. Lara 

1. My
NIACIN + SQUALENE FIRMING NECK CREAM
is a thicker formulated neck cream made with vitamin b and antioxidants to promote collagen production, resulting in a firmer and more youthful appearance of the neck. 

2.
My PEPTIDE EYE CREAM
is made to moisturize and absorb quickly into the delicate skin around the eye area, reducing wrinkles, puffiness, and fine lines. Packed with peptides and a blend of vitamins, it's perfect for locking in moisture and protecting from the dry and cold air during the winter. 

3. My
ADVANCED RECOVERY CREAM
is great for colder weather due to its rapid healing properties and vitamin blend to provide fast relief against dryness, flakiness, and peeling. Formulated with two of my favorite ingredients, vitamin e and provitamin b5, my ADVANCED RECOVERY CREAM works to soothe the skin and reduce water loss. 

4. My
RESVERATROL NIGHT CREAM
is a nourishing night cream to lock in moisture and give a dewy appearance. Utilizing a mixture of ceramides, peptides, emollients, and resveratrol, a green tea polyphenol, it not only deeply moisturizes the skin's many barriers, it also calms it. It then infuses antioxidants to fight damage from free radicals and dry winter air.