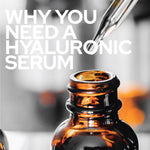 "One of my favorite things about my
Hyaluronic Serum
is that it not only makes your skin look and feel good in the moment, but it also improves your skin quality over time by boosting collagen production and hydrating from within. This non-comedogenic product is
a 
beautiful and transformative product that will benefit all skin types. Xx Dr. Lara.
The small molecular weight fragments penetrate into the dermis and hydrate from within. 
The large molecular weight fragments rest on top and improve the barrier protection of the skin. 
My Hyaluronic Serum is also niacinamide fortified which gives an extra collagen boost to the skin.
 Daily use will improve skin quality and overall luster. The skin will not only look more hydrated and glowy, but over the course of time, you will see a reduction in the appearance of fine lines and deep wrinkles.