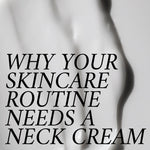 Why Your Skin Care Routine Needs a Neck Cream
"When it comes to skin care, our neck and décolleté are often neglected, but it is just as important as treating our face. Incorporating a hydrating and reparative neck cream in your regimen is a crucial way to prevent signs of aging and promote a youthful look." Xx Dr. Lara

Why Is Neck Care So Important?
From hyperpigmentation to fine lines, the neck is one of the first places to show signs of aging. The neck tissues are thin and delicate, and treating it with tender love and care will benefit your neck in the long run.

What Should I Use To Treat My Neck?
My Niacin + Squalene Neck Firming Cream is for tightening and replenishing the neck. This Vitamin B and antioxidant rich neck cream promotes collagen and elastin production - promoting a youthful glow.

How Do I Use the Niacin + Squalene Neck Firming Cream?
You can apply the Niacin + Squalene Neck Firming Cream 1-2 times a day. After cleansing, massage 1-2 pumps on the neck, jawline, and décolleté.