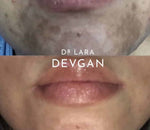 A Real Client Skin Transformation with my
HYPERPIGMENTATION COLLECTION
.
"I have tears of joy at the before and afters! My skin has never looked better & I will never trust any other products again. Thank you for all your help & suggestions! You & your team go above and beyond." -Real Scientific Beauty User.

Clinically proven ingredients at medical-grade levels for real and meaningful results. I prefer to show my skin care line in real client stories and photos because, to put it simply, I think this is the point of it all. A real user sent me this message, and it meant so much to me to read how transforming her skin with my products allowed her to feel confident.
I reject the notion that skin care is trend and hype driven. People are smart, and they want products that work. This lovely client used the
HYPERPIGMENTATION COLLECTION
to clear their melasma.
My team and I are committed to helping you understand ingredients and products better. DM
@drlaradevgan
with your skincare questions for complimentary product recommendations. Xx Dr. Lara