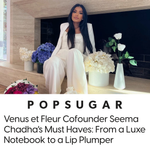 In the world of luxury floral arrangements, Venus et Fleur has established itself as a beacon of elegance and sophistication. Behind its success is co-founder Seema Chadha, a woman of impeccable taste and style. Recently, Chadha revealed to Popsugar the beauty community that her go-to must-have lip product is our Platinum Lip Plump. 
"The Dr. Lara Devgan Scientific Beauty Platinum Lip Plump SPF 30 is something that I use every, almost every day," she says. Chadha claims that this is the best lip plumper she's ever used, noting that it does tingle a little but does not feel sticky. "It really just like brings that, that pinkness to your lip that you really want; the flush of color you get is so beautiful," she says. The Platinum Lip Plump is a clear gloss that contains hyaluronic acid at different weights, ceramides, peptides, and niacin, which helps produce that natural flush of color to your lips.
Pro Tip: Chadha loves to use this on top of other lip products as well, "it gives you that, fullness, and color that's just like a little bit more elevated," she says."