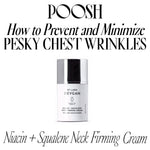 "Our Chief Content Officer swears by this neck cream applied to the chest in the morning to help replenish overnight dehydration. It's really plumping and rejuvenating."
As we gracefully age, the quest for youthful, radiant skin becomes more pronounced. Wrinkles, especially on the neck, can be a telltale sign of the passing years. However, with advancements in skincare technology, maintaining smooth, firm skin has become more achievable than ever. Poosh, the lifestyle blog founded by Kourtney Kardashian, recently unveiled a game-changing solution in their article about minimizing and preventing wrinkles – Dr. Lara Devgan's Niacin + Squalene Neck Firming Cream.
The cream's powerful formula harnesses the synergistic benefits of two key ingredients: niacin and squalene. Niacin, also known as vitamin B3, plays a pivotal role in enhancing the skin's barrier function, promoting moisture retention, and reducing the appearance of fine lines and wrinkles. Squalene, on the other hand, is a natural emollient that helps lock in hydration, leaving the skin supple and youthful.
In Poosh's recent article on anti-aging tips and products, Dr. Lara Devgan's Niacin + Squalene Neck Firming Cream was showcased as a must-try solution.