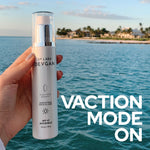 "My absolute skincare necessities when I am packing for a trip." Xx Dr. Lara. 
This is especially important if I am traveling somewhere sunny like my home in Southern California. It fights free-radical while repairing sun damage and hyperpigmentation. 
I use this titanium and zinc based SPF 365 days a year. It protects my skin from UV rays while providing a lustrous glow. 
I love my mini Hyaluronic Serum and Vitamin C+B+E Ferulic Serums because they fits in my toiletry bag. These two serums keep my skin hydrated and healthy while traveling. 
I can't go anywhere without my holy-grail product. It's the perfect accessory and fits in every purse!