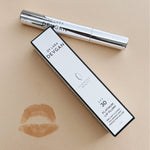 My PLATINUM LIP PLUMP contains science backed ingredients. It's mixed with molecular weight hyaluronic acid to give hydration and internal plumping of the lips and niacin to give vasodilation of blood vessels to create a little pinkness and engorgement of the lips themselves. It also contains ceramides to create hydration, glossiness, and a soft appearance of the lips. 

When you apply my PLATINUM LIP PLUMP, you get a slight tingling sensation on the lips. However, it is not harmful. It does not contain unsafe ingredients like other lip plumps on the market that contain ingredients like chili peppers, cinnamon, and capsaicin. 
"This is our best selling cult favorite medical-grade lip plumping gloss, and I wanted to share what makes our PLATINUM LIP PLUMP so special because we get so many questions about." xx Dr. Lara.