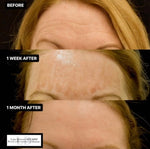 The Butterfly Effect is the heart of the power of slight facial optimizations in plastic surgery, but also the heart of the reason why many different skincare ingredients are needed, to dovetail with each other for a beautiful and overall glowing complexion.

In plastic surgery I like to think about the butterfly effect because small interventions together are capable of large effects. When I'm seeing patients in my practice, I often think of the ladder of surgical interventions starting with a proper medical grade skin care regimen and then moving up to in office medical treatments such as microneedling and erbium laser. 

Injectable like botox and filler and then surgical interventions like eyelid surgery, face and neck lift, and other little interventions like buccal fat pad removal lip lift, temporal brow lift, breast augmentation body contouring are really a spectrum of procedures that together can dovetail and all together make a big impact in the way that you feel about yourself.


A smooth and natural result for my beautiful patient who desired a tighter contour of the neck and jawline. Here she is pictured before and 1 week after surgery-- with a moderate but passable amount of bruising. Most patients experience 1-2 weeks of social downtime and 4-6 weeks off of exercise.

xx Dr. Lara