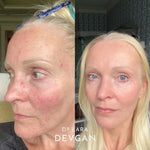 Top 10 Skin Transformations of 2021
I am so grateful for all of the positive reviews and feedback that I have received over the past year. I am blown away by the skin transformations, and I love seeing your before and after photos. Here are my Top 10 Transformations over the past year. Xx Dr. Lara
"I was diagnosed with rosacea 18 months ago, and I started taking doxycycline. It helped clear flare ups, but as soon as I stopped taking it even for a couple of days, it would come back. Two weeks ago I stopped taking the antibiotics, and I started using your
Retinol + Bakuchiol Serum
. I've had no inflammation or flare ups. I am so happy with the results!!"
"Uhm Hello. Wow. 5 days in and this is my skin. No new breakouts, smooth, tight, and just wow. Never thought there would be a day that I wouldn't be covering up my acne.
"I have been using your
Vitamin C
and
Hyaluronic Serum
since 2018. The other day I was complaining about forehead wrinkles. I remember that I had taken pictures before I started using the products and then again 8 weeks later. If I didn't have the pictures I'm not sure I would believe the amazing results! Thank you for making much first-class products!
This client was using my Hyperpigmentation collection for only 3 weeks! You can see a visible improvement in the skin texture, decrease in hyperpigmentation, and overall smoother and clearer complexion.
"Results after three weeks of using the
Alpha Beta Hydroxy Pads
and
Acne Control Serum
. Purchased these for my daughter. She has experienced so much failure and frustration with other products and was hesitant to try another one. Dr. Devgan's products are not just any other product -they're THE BEST! No sting or burning upon application, just gentle and effective ingredients working their way into the skin. We are so very thankful for these wonderful results!"
"My skin has never looked or felt this good. Lara's products have changed my life forever."


This client saw a noticeable improvement in acne, hyperpigmentation, and textural concerns.
This client experienced a transformation in her texture and complexion. 
I was recommended your lash serum by a friend, and it's only been a couple of weeks, and is made a HUGE difference. I'm part Japanese and my mom and I have always had very short thin eyelashes. This is truly amazing!