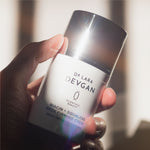 My Essentials to Maintain Moisture in the Winter
"As the temperature drops, our skin requires extra moisture to avoid cracking, drying, and flaking. It's important to use a hydrating moisturizer to lock in moisture and prevent further damage that the dry winter air can cause." xx Dr. Lara
My
ADVANCED RECOVERY CREAM
is a lightweight yet intensely hydrating cream that utilizes the power of Vitamin E and Provitamin B5. Together, these medical-grade ingredients work to decrease inflammation, restore the skin's barrier function, reduce moisture loss, and protect the skin from cold temperatures and dry air. The effective healing and moisturizing properties make it a popular post-procedure recovery cream for my in-office patients.
My
RESVERATROL NIGHT CREAM
is a cult-favorite, antioxidant-rich cream that utilizes hero ingredients like Resveratrol, Peptides, and Ceramides to lock in moisture throughout the night. This ultra-nourishing cream restores the skin's barrier and helps prevent the early signs of aging.