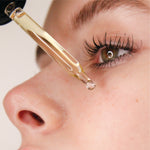 "With regard to skincare, the butterfly effect really means that you want to think about a complete skincare routine. It's not about finding that one product that is the magic answer. It is about utilizing different products and ingredients to perform different skincare needs and tasks."

In the same way that you build out a healthy diet by incorporating different food groups, you want to think of your skincare regimen the same way with using different ingredients. You should start building out a routine with a cleanser like my ADVANCED REVITALIZING CLEANSER It will gently resurface the skin by removing excess debris and cellular impurities, but it will not strip the skin. It will leave you with a clean and healthy base to start your routine with.

You next want to consider using my HYALURONIC SERUM to draw moisture back into the skin and promote collagen production.

I also love my PEPTIDE EYE CREAM for rejuvenating the delicate tissue around the eyes.

An SPF is also important. One with zinc and titanium like my SPF 44 BB CREAM, SPF 50 CONCEALER and SPF 50 Dusting Powder.

And for the extra beautiful "Butterfly Effect", a little bit of brightening around the eyes with my PLATINUM LONG LASH and EXTREME LENGTHENING MASCARA. Apply the PLATINUM LIP PLUMP on the lips for an extra boost.
At Night

In the evening apply my VITAMIN C+B+E FERULIC SERUM followed by my RETINOL + BAKUCHIOL SERUM which are really nice for improving hyperpigmentation, fine lines, and overall skin quality.

Finally, our RESVERATROL NIGHT CREAM, which is really great for locking in moisture, and the NIACIN + SQUALENE NECK CREAM that combats the textural issue that many experience in the neck area as we age.