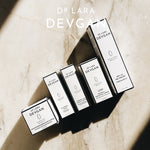 The Hyperpigmentation Collection Highlight.

When grouping my HYALURONIC SERUM, VITAMIN C+B+E FERULIC SERUM, and RETINOL+BAKUCHIOL SERUM into your skincare routine, you will see dramatic improvements in your skin's texture, firmness, and complexion.

My MICRODERMABRASION SCRUB is a nonabrasive and luxurious exfoliating scrub designed to gently slough off dead skin cells. It allows new skin to resurface, giving you a softer and smoother looking appearance.

My SPF 44 BB CREAM is designed to provide optimal sun protection wile evening the skin's complexion. It also helps prevent further damage from sun exposure and free radicals.