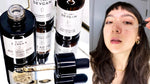 A stripped-down, bare face can often feel like the clean slate we want at the start of a new year.  Whether your 2021 resolutions involve consuming fewer sweets and red wine post-dinner, making the effort to wake up and go to the gym before work, or unsubscribing to that one mailing list that fills up your inbox, a new year also marks the start of taking care of our present-selves for the betterment of our future selves. I go through my skin regime, glazing on serums and patting-in moisturizers, just as I drink my morning green tea to improve my liver or go on a run to keep my lungs and heart healthy. The skin is the largest organ in the body, so why wouldn't you treat it with the same amount of care and diligence as any other organ? 
Deciding to take care of your skin is one thing, but then knowing where to turn for that support is another. This is why so many people turn to medical-grade skincare. Last week I got the chance to sit down with Madeline Ford, Tik Tok influencer, and model with a keen awareness for skin care. When discussing the importance of quality products, Madeline noted that, "I like to read the ingredients which I never did in middle school. I'm all about ingredients which is why medical-grade products are so great because I feel like I can trust them more."  I have been using the Serum Superhero Collection since November and have noticed a huge difference in my skin. I can not preach for a more youthful appearance since I am only in my early twenties, but I have noticed a more even complexion and smaller pores. 
With trends moving towards cruelty-free products and clean awareness, comes the push for the natural look; the glow, the dewy, the no-makeup makeup. Perhaps this phenomenon is developing with Millennials and Gen Z who have flooded platforms like TikTok and created their own skin care communities. "I feel like everyone is such a professional. Skincare's become a cult. It's bringing so much more awareness, education, and normalization, especially for men. The new expectation is that everyone at least has to wear sunscreen and moisturizer now. You can't just wash your face with soap anymore. That's unacceptable."  
My skin care routine has certainly surpassed more than just sunscreen and moisturizer but has not yet reached the level of the double cleanse, ten-step method.  My three-step serum collection has become my nightly routine, and with noticeable results, I feel like I am starting off my new year right.  Even though half my face is covered at all times in public spaces, I know there is going to be a day, in the future, where no one will wear a goddamn face mask. My act of skin care has become an act of self-love and hope for the future; a future with no more dry skin while you try to eat outside next to a broken heating lamp, or smelling your own breath inside your face mask wondering if the potency will give you clogged pores.  No more mascne, or being unseen. This pandemic will pass, just like the pimple on my chin. So I go through the motions of my routine, taking care of my present self, repeating, "This is just a moment, and moments pass." And I promise when you make the decision to start taking care of your present self, your future self will thank you. 
Madeline Ford's 2021 Holy Grail: Vitamin C+B+E Ferulic Serum, Hyaluronic Serum, Peptide Eye Cream, a thick moisturizer for the winter like the Resveratrol Night Cream, and a rosewater mist to carry around in your bag.  
By Caroline Campos