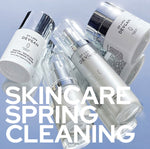 "It's that time of the year again where we start cleaning our closet, and making room for summer clothes. It is also a perfect time to refine your beauty cabinet. As the temperature slowly rises, start exchanging the heavy moisturizers with light ones, and start using a stronger SPF. Xx Dr. Lara."
Advanced Recovery Cream
This is a great daily moisturizer that protects the skin's dermal barrier and soothes irritation. It is a great spring and summer alternative to the RESVERATROL NIGHT CREAM.
SPF 44 BB CREAM
Gives you the sun protection you need, but it also functions as a luxuriously moisturizing tinted beauty balm. This is truly all you need in the morning.
SPF BEAUTY BUNDLE
For extra protection this spring, my
SPF BEAUTY BUNDLE
is a great option for glowing and healthy skin.