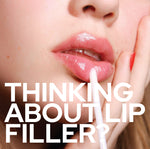 "The lips are one of the most beautiful parts of the face which is why lipsticks, glosses, and injections are a billion dollar industry. If you are still on the fence about lip injections, my
PLATINUM LIP PLUMP
is a less painful, temporary, and budget-friendly alternative." Xx Dr. Lara.
The Science Behind my
PLATINUM LIP PLUMP
: My formula combines mixed molecular weight hyaluronic acid, niacin, and ceramides. In the form of a clear liquid gloss, it gives the lips 1-2 millimeters of additional caliber in a way that is nourishing and healthy.