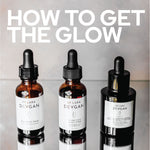 "My Serum Superheroes Collection includes the three products that are key to a healthy and beautiful complexion. Here is a breakdown of my morning and evening routine. Xx Dr. Lara."
First in the morning, I use my mixed molecular weight Hyaluronic Serum which boosts the hydration of the skin. It also improves collagen production.
At night, I use my Vitamin C+B+E Ferulic Serum. This is an amazing antioxidant that scavenges free radical damage and improves hyperpigmentation and discoloration.
Next, I use my Retinol+Bakuchiol Serum. This is an amazing product for increasing skin cell turnover and reducing the appearance of fine lines, enlarged pores, blemishes, and irregular texture.