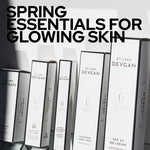 "Spring is here! This is my favorite time of the year, and I want to share my top picks for a healthy and protected glow this spring. Xx Dr. Lara."
This is my favorite on-the-go product. I always carry one in my purse, and one in my white coat. It is the perfect product for a subtle and pretty pout.
Although the weather is getting warmer, it is important to keep our skin hydrated all year round. I apply a few drops of my Hyaluronic Serum in the morning for an instant and healthy glow.
This is my proprietary eyelash and eyebrow enhancing serum which has been clinically proven to grow stronger and thicker eyelashes and eyebrows. Apply daily in the morning for a gorgeous and dramatic eye area.
This product dovetails with the Platinum Long Lash to create dramatic and bold eyelashes. I love applying one coat in the morning, and reapplying in the evening before heading out.

SPF 44 BB Cream
Last but not least, I apply SPF every single day. Rain or shine, I make sure to keep my skin protected from harmful UVA/UVB rays and environmental damage. This is a key product for protecting the skin from hyperpigmentation, fine lines, and discoloration.