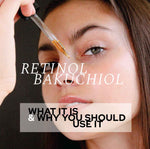 WHERE DID RETINOL COME FROM?
A derivative of vitamin A, Retinol has been wildly popular since 1971 when Dr. Kligman, a dermatologist from the University of Pennsylvania, discovered that retinoic acid proved effective both in treating acne for young people and smoothing wrinkles for older folks.

WHAT ARE ITS BENEFITS AND SHORTCOMINGS?
Retinol is a chemical precursor to retinoic acid and is metabolized by the skin cells as such when applied topically as a cream, oil or water-based solution. While extraordinarily effective in acne-fighting and wrinkle-smoothing, it has the potential to leave skin dried out and irritated depending on its concentration.

WHY IS MY SKIN PEELING?
It is not uncommon for sensitive skin to undergo a Retinoid Reaction, i.e. temporary contact dermatitis. This harmless reaction (though uncomfortable) reaction is more likely to occur with higher concentrations of retinol. For this reason, we recommended applying our mild (2.5 times) concentration once every two to three days, if you haven't ever used a retinol-based product previously. Gradually approach daily use as your skin acclimates to the retinol.

WHAT IS THE RIGHT CONCENTRATION FOR ME?
MILD: 2.5x Retinol + Bakuchiol Resurfacing Serum is our gentlest formulation designed for sensitive skin types and those who have never applied retinol before.

MODERATE: 5x Retinol + Bakuchiol Resurfacing Serum is more suitable for those who have previously tolerated retinols and for those with thick or oily skin.

MICRO-PEEL: 10x Retinol + Bakuchiol Micro-Peel is our ultra-concentrated micro-peel. Most clients apply it for 4-7 days per month. Anticipate mild peeling and dryness as the skin exfoliation process occurs, leaving baby-soft epithelium below.

HAVE YOU ADDED ANYTHING TO REDUCE THE DRYNESS CAUSED BY THE RETINOL?
Yes! We recently added bakuchiol to our retinol serum as its anti-inflammatory, antioxidant and anti-bacterial properties help ameliorate the dryness and irritation caused by high concentrations of retinol.