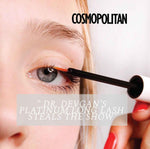 Cosmopolitan fawns over Dr. Devgan's Platinum Long Lash in their piece, "Cosmo Loves: This Eyelash Serum Gave me Legit Baby Doll-Level Lashes." In case the title doesn't speak for itself, its author and long-lash lover, Madeleine Reeves, goes on to detail exactly why she fell head over heels for the "pure magic" of Dr. Devgan's eyelash enhancement serum.
Madeleine explains how Dr. Devgan's eyelash serum works by creating the ideal environment for growth with its combination of vitamin B5, clover flower extract, and peptides. Unlike the time-consuming process of applying eyelash extensions, Madeline describes how quick and painless the applying the serum is: "you just trace it along the base of your lashes once or twice a day (the brand says it's safe to use while wearing contacts, FYI), let it dry, and live your life."
As specified on Dr. Devgan Scientific Beauty's product details, Madeleine witnessed her "wow-they're-so-long-lengths" after around 6 months. Not only does Madeleine rave about how Dr. Devgan's Platinum Long Lash improved the length of her eyelashes, but she got amazing results in filling out her eyebrows as well: "within about five weeks, the spot had filled in enough to the point where it no longer bothered me. "
Madeleine recounts the stunning effect that she experienced when coupling the eyelash serum with mascara as "perfect for that extra little bit of polish for Zoom life." Given the vast amount of time we're spending behind computer cameras these days, it is no wonder that Madeleine wants to look her best on screen - further proof of Dr.Devgan's hypothesized "Eyelash Index."
Even for those that want the extravagance and flair of eyelash extensions, Madeline notes how the lash serum keeps "your lashes strong and minimize how easily they fall out." Clearly, whether you wear mascara or eyelash extensions (or neither!), investing in Dr. Devgan's Platinum Long Lash is the way to go!